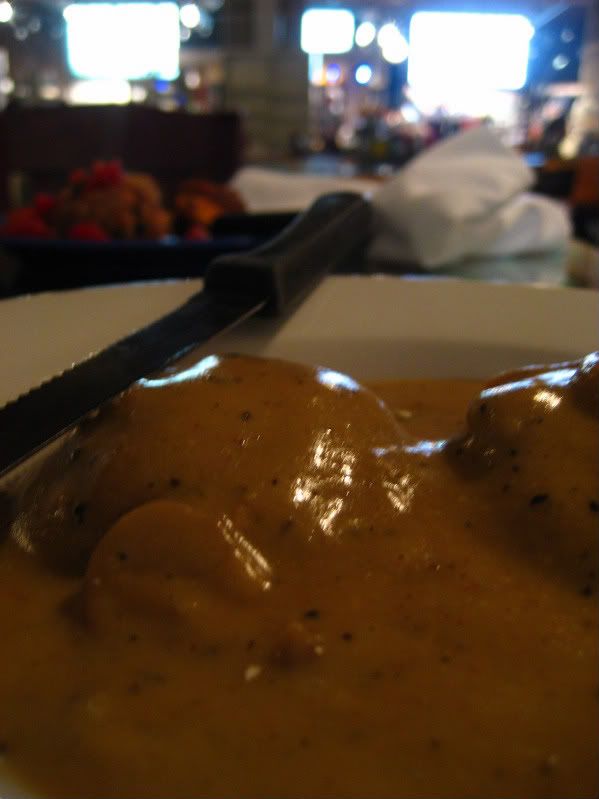 This past weekend, to celebrate both Mother's Day and my graduation from college, my mom and I took a weekend trip to Kansas City. We shopped and ate, and I shall share what morsels I ingested in the next few paragraphs.
Our first stop was
Eden Alley
, which is conveniently located next to the Country Club Plaza. My mom and I ordered the dip duet with hummus and baba ghanouj. Since I was carb-starved and slightly hungover when the plate arrived I neglected to photograph it. I did, however, manage to get a picture of the second portion of my comfort carb meal: biscuits and gravy.
The gravy was mushroom based and honestly would have done fine by itself, while I am pretty sure the biscuits were made with coconut milk. It was just what I needed to steel myself for a day of consumer driven activities. We ordered dessert to go, a couple slices of Mexican Mandarin cake, but the to-go box was not kind to their appearance. Sorry.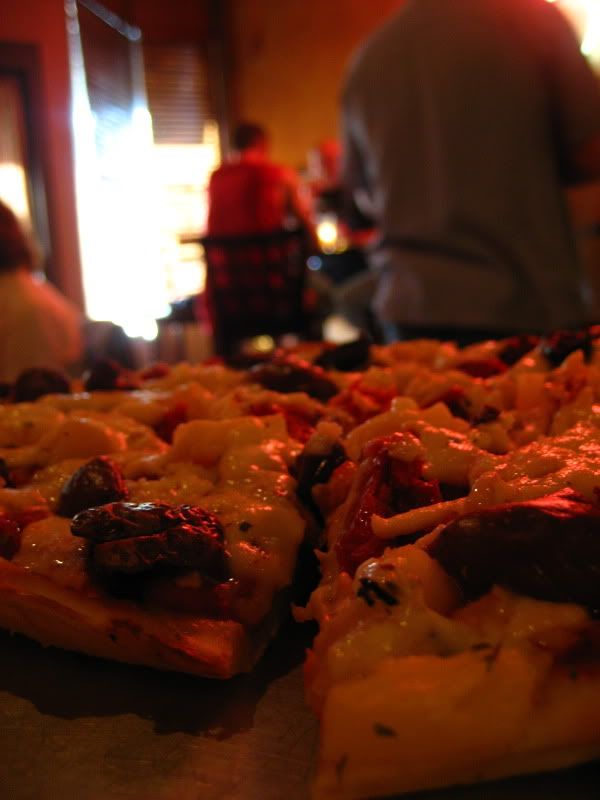 Dinner that night was comprised of
Waldo Pizza
. I love Waldo because they are SUPER
vegan friendly
, have tons of topping options and my dad and I can eat there together and both be happy about it (that doesn't happen a lot). I usually get the salad bar (vegans, request the raspberry vinaigrette!) because it is amazing with spinach, blueberries and many other goods, but I skipped straight to the pizza. Traditional crust with vegan mozzarella (make sure to say vegan), kalamata olives, sun-dried tomatoes and pineapple. No other words needed.
The next morning, my mom and I headed over to the
City Market
. I was most excited about the bubble tea, over at
Lollicup
. I opted for strawberry (pictured) while my mom went for green apple.
Once we were done wandering around, we headed over to
B
lue
N
ile Cafe
for the best Ethiopian food I have ever had. It was one of those meals where I said 'Mmmmmmm' after every bite. Just amazing. We also had a really fantastic waitress- the meal was the culinary highlight of the trip. BTW, everything in the vegetar
ian section of the menu is vegan, and their spices are available for purchase in small quantities. Seriously, I got the veggie platter and it was one of the best decisions I've ever made in my short life. Go there, get it, eat it, love it. I have included pictures of both sides of the plate to make you want it even more.
The final meal of the trip was impromptu and took place at
Stix
, which is located at
Legends mall
. I got the vegetarian sushi. Not much else to say about it, but at least it looked pretty and tasted good. Veggie sushi + Diet Coke = my power combo.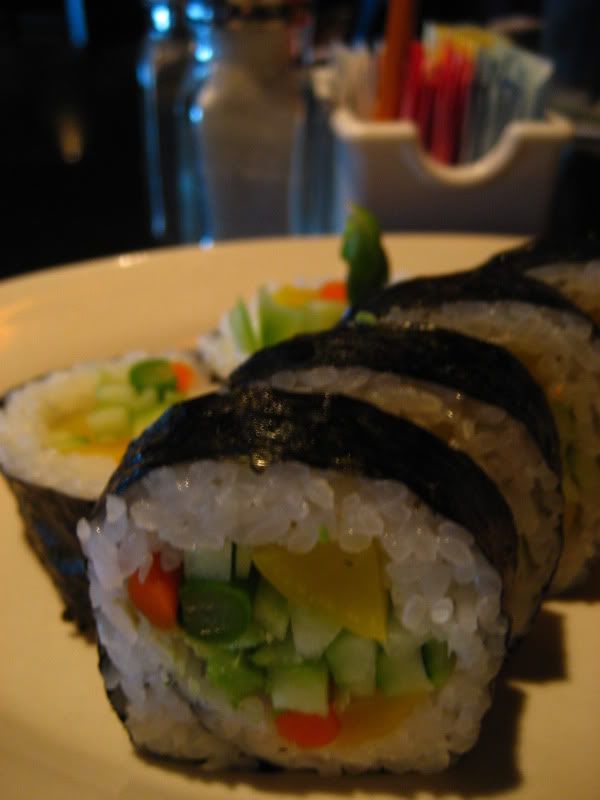 Overall, it was a great trip. I may do an entry on my beautiful purchases (which included a Grease 2 DVD), but we'll see how ambitious I am.