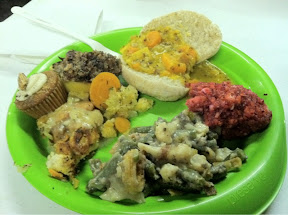 Gravy. Green bean casserole. Stuffing. These are a few of my favorite things and they were all at this month's Chomp! The first Wednesday of each month,
Plants and Animals Denver
puts on a massive vegan dinner party, complete with raffles and live entertainment. An added bonus? Awesome vegan dinner conversation. This month's theme was Thanksliving and featured quinoa stuffed apples, cupcakes with caramelized pecans, sourdough biscuits with a roasted vegetable stew and many other mouth-watering options. If you are in the Denver area for Chomp!, definitely stop by- great food, great conversation and the potential for prizes? Heck yes.
Edit: Sorry for the cell phone picture! I'll use a real camera next time.