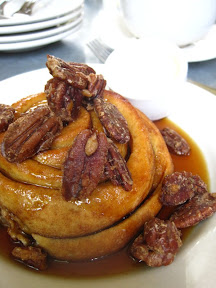 Before my recent trip to Seattle, I can't say I had ever heard of
Cafe Flora
. Sure, maybe a blip mention here or there but nothing that engaged my attention enough to give it a second thought or drool over the menu online. Lucky for me, my dear friend Chelsea
had
heard of it and wanted to give it a try. Since I had had my Mighty-O Donuts at this point, I was game for anything. Thank goodness.
Cafe Flora blessed me with some of the greatest food I've ever had. The
tofu scramble was crispy on the outside, soft on the inside, noochy crumbles of perfection that I didn't take a picture of and a bowl of fresh fruit accompanied it perfectly. There was also a cinnamon roll. An amazing cinnamon roll. A cinnamon roll with a delicate glaze and caramelized pecans on top. Easily split between two (with a possibility of more), this trio of dishes constituted an amazing brunch.
To make it even better, the actual restaurant is stunning. We ate in the atrium and enjoyed both fresh air and our napkins staying put, along with the sounds of a gentle fountain. Highly recommended for any occasion, except perhaps the Juggalo Gathering. That might not go so well.